What is Rockpave?
Rockpave is a family of surfacing systems using rock or glass with resin to create pavements and flooring. Each product range is formulated for it's specific application using optimum performance resins and aggregates.
There are products designed to be laid on asphalt, concrete or suitably prepared timber floors.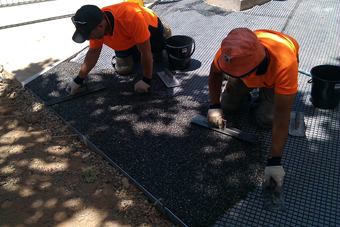 Installation of FlowStone™ Resin-Bound Permeable paving by our highly trained applicators. ►
Are you having touble viewing this site?
This site is best viewed using the latest firefox or google chrome web browsers...

...but any of the latest internet browsers should do.
To update your internet experience and embrace the future, feel free to click on one of the links below and be taken to the respective website download area:
Just so you know, MPS Paving Systems/ Rockpave have no affiliation with any of the above companies. We just think it is good to stay updated!